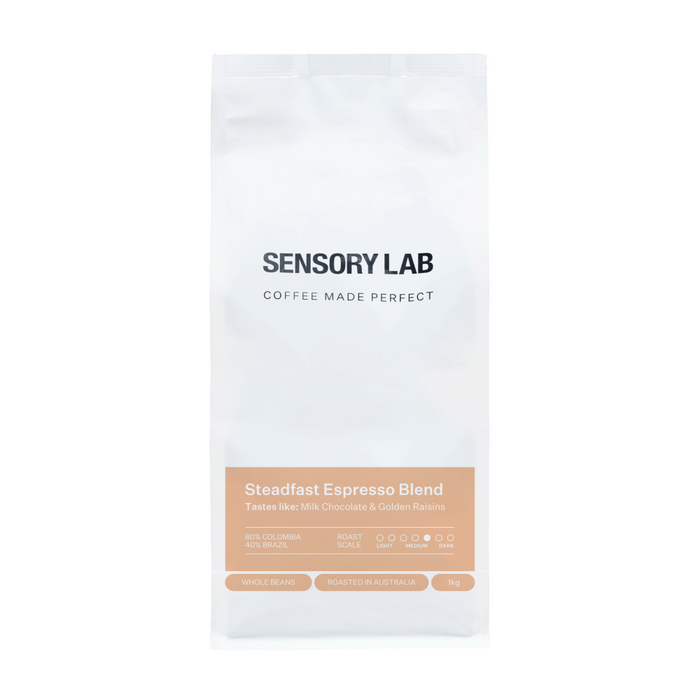 12-Month Prepaid 500g Subscription - 30% Off
SAVE 30% ALL YEAR 

Lock in discounted coffee for a year with 30% off Sensory Lab's prepaid subscriptions. Just select which blend you'd like and we'll deliver 500g of freshly roasted Sensory Lab coffee to your door each month for an entire year!
About our blends: 

Steadfast is most popular blend and for good reason! Steadfast is our house blend and tastes of Apple Jam, Fudge and Chocolate. Delicious.
Stellar is our darkest blend with a rich and syrupy body. Featuring bold flavours of dark chocolate, butterscotch and praline, Stellar is perfect for milk-based coffee or for those who like their espresso with a kick!
Santo is 100% organic and ethically sourced. It's bright, smooth, and fruity. Perfect for those who like their black coffee on the lighter side. 
Sans is our decaf blend, for all the flavour with none of the buzz.

Subscription Details
 - You will be charged once for this prepaid subscription and each month we will ship you 500g of coffee to the nominated address.
 - The subscription will renew for another 12 months at the end of the first term, unless cancelled beforehand.