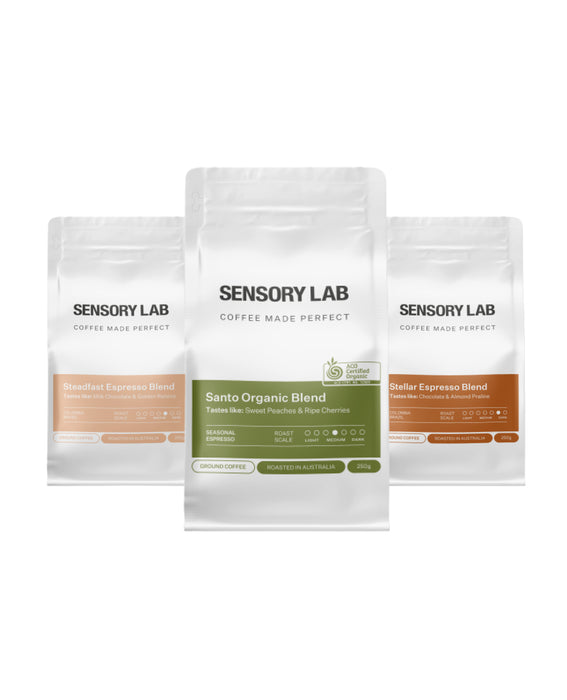 Bundle of Blends - Sensory Lab
Experience the Sensory Lab range at home with our blend bundle including 250g bags of freshly roasted Steadfast, Stellar and Santo.

From our darkest blend to our lightest, this bundle of freshly roasted coffee will give you a sample of our most popular blends. 
Santo
Tastes like: Stonefruit | Iced Tea | Chocolate
COUNTRY: 60% Ethiopia | 40% Colombia 
REGION: West Guji // Magdalena 
CULTIVAR: Heirloom | Colombia, Caturra, Castillo, Typica
PROCESSING: Washed | Washed
Steadfast
Tastes like: Apple Jam | Fudge | Chocolate.

COUNTRY: 60% Colombia | 40% Brazil
REGION: Tolima Department | Poços de Caldas, South Minas
CULTIVAR: Caturra, Colombia, Castillo | Red Bourbon
PROCESSING: Washed | Natural
Stellar
Tastes like: Chocolate | Butterscotch | Praline
COUNTRY: 60% Brazil | 40% Colombia
REGION: Sao Paulo | Huila Department 
CULTIVAR: Red Bourbon | Caturra, Colombia, Castillo
PROCESSING: Natural  | Washed