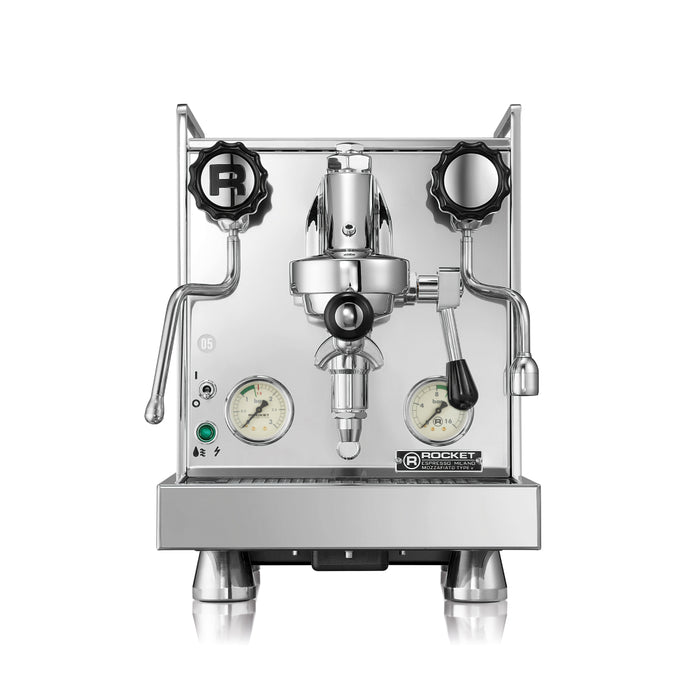 Rocket Espresso - Mozzafiato Cronometro
Mozzafiato has taken features directly from the Rocket Espresso commercial range.
A sleek solid pair of cast alloy flat sided panels on the Mozzafiato model now increases Rockets domestic range to an impressive new line-up and offering.
Both R & V models are temperature controlled by PID logic, which draws on 4 different signal parameters to ensure stability and optimum results in the cup.
This enhances the users experience and control over espresso and steam quality. The PID touchpad is easily accessible underneath the front of the drip tray.
The Cronometro models come with a digital shot timer allowing the user to better optimise extraction time.
This elegant and subtle timer becomes a mirror finish when not in use.
The evolution of the Rocket Espresso domestic range continues to strengthen with an unwavering enhancement to the component and build quality from attention to detail and the tradition of Fatto a Mano... made by hand.


Tipo V with Vibration Pump.
Tipo R with Rotary Pump (with optional mains water kit).
Heavy cast alloy flat sided panels.
E61 style chrome plated brass group head is
4.05 kilo (9 lbs).
Lever activation for espresso.
PID Logic controlled via LED touchpad.
Height adjustable feet (optional).
Insulated wrapped boilers with 9mm brass end plates for enhanced Thermal performance and stability.
Cronometro series features a subtle shot timer.