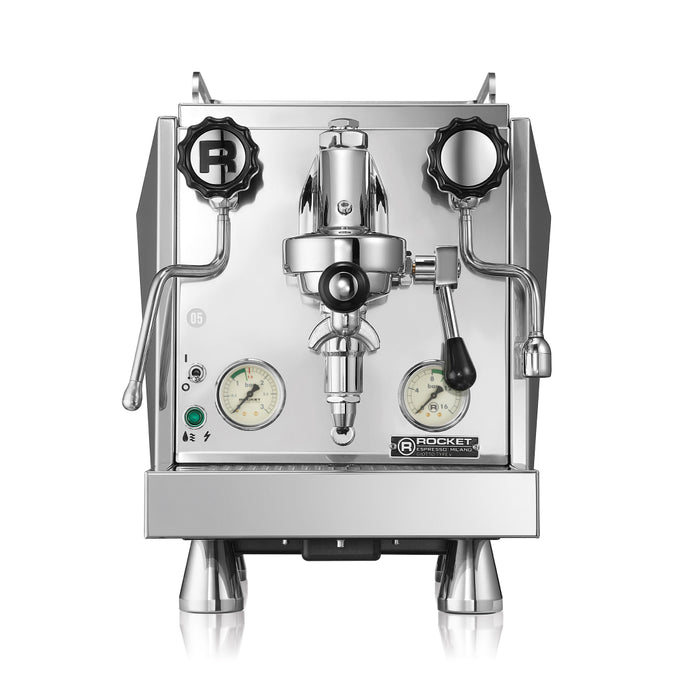 Rocket Espresso - Giotto Cronometro
Starting at the very end of the process, by creating the perfect espresso, the engineers work in reverse to create the ultimate espresso machine. Purpose built with the very best in traditional craftsmanship and technical knowledge, all to reflect the commercial machine experience at home.

The boiler with heavy end plates and capacity of 1.8 litres has been matched to the thermosyphon system allowing the balance of the espresso machine which enables the ability to texture perfect milk and optimising perfect extraction temperature for the tastes and flavours of espresso, without delay.

The Giotto Cronometro is available in two versions, Tipo V with a Vibration Pump and Tipo R with a Rotary Pump.

Both R and V models are temperature controlled by PID logic for enhancing the users experience and control over the espresso quality. The PID touchpad is easily accessed underneath the front drip tray.

The Cronometro models come with a digital shot timer, enabling the user to dial in their grind setting to achieve optimum espresso pour and maintain quality control. This elegant and subtle timer becomes a mirror finish when not in use


Tipo V with Vibration Pump.
Tipo R with Rotary Pump (with optional mains water kit).
E61 style chrome plated brass group head is 4.05 kilo (9 lbs).
Lever activation for espresso.
Insulated wrapped boilers with 9mm brass end plates for enhanced Thermal performance and stability.
PID Logic controlled via LED touchpad.
Height adjustable feet.
Stainless Steel Cups Frame as Standard.
Cronometro series features a subtle shot timer.